Remember all those resolutions your friends made earlier this year?
We're halfway through 2018 and most of them have failed by now.
Truth is there's no point in making "resolutions" to reach success if you're confused, lost, stuck in a rut and drowning amidst the noise.
If you've been trying to find the applicable resources to bridge the gap between inspiration + action, you NEED a THRIVE Retreat!
This retreat is for those that want to be restored from burnout, empowered with unique and sustainable strategies to take action and be inspired to thrive in their everyday lives.
A THRIVE Retreat will be hosted online globally SPRING 2019
Learn from world class teachers in personal + business development to take THRIVE on your way to the next level.
It's an amazing opportunity to network with a diverse tribe of like-minded individuals.
You will leave this retreat restored, inspired and empowered to take action + THRIVE in your daily lives.
re·treat
rəˈtrēt/
verb
1. (of an army) withdraw from enemy forces as a result of their superior power or after a defeat.
I've got you covered with the THRIVE RETREAT!
"A THRIVE Retreat" is the #1 virtual retreat of the YEAR.
You will leave this retreat restored, inspired + empowered to take action + THRIVE in your life.
Are you CONFUSED?
Are you lost?
Are you stuck in a rut?
Are you consumed by the noise?
Are you at the edge of a breakthrough?
Are you trying to find the applicable resources to bridge the gap between inspiration + action?
A Thrive retreat will equip you with the tools that you need to be restored + empowered to thrive.
You will leave this retreat being able to identify your hurts, habits and hang-ups.
You will leave this retreat having learned how to live with INTENTION.
You will leave this retreat equipped with the ability to shift your mindset from negative to positive using your words to affirm your dreams and desires.
You will leave this retreat with personalized AFFIRMATIONS that will help you navigate your life from a place of authority.
You will leave this retreat empowered to attract and achieve abundance.
You will leave this retreat with the self-care tools for optimal, healthy, happy and harmonious living.
You will leave this retreat ready to make the positive changes needed to set and achieve your goals.
You will leave this retreat RESTORED.
You will leave this retreat INSPIRED.
You will leave this retreat EMPOWERED.
You will leave this retreat THRIVING!
You will leave this retreat being able to honor who you are by taking action to live your BEST LIFE NOW!
TESTIMONIES FROM THE LAST RETREAT!
Elizabeth
#AThriveRetreat with Shabree H. Ewusi has been motivating!! I don't think I can say I have ever experienced anything like this anywhere else. 3 days of deep inner work, confronting how to create tangible plans step by step while tearing down roadblocks in your path! The #actionplans are excellent for creating a framework so you can really see your goals taking shape before your eyes, and gather inspiration and the readiness you need for #WINNING! O-M-G I M L-I-T!!!
Carmen King
Words cannot express my experience and after affect of the #AthriveRetreat!
ShaBree did a phenomenal job of bringing together the #AThriveRetreat and Speakers.
It has forever change my life and mindset! ShaBree herself has been such an inspiration that has just continued to outpouring nothing but a Positive and Yes u can Attitude! Thank u Again ShaBree!
#AThriveRetreat
Godfrey Brun
It was a true pleasure to have your help with goal setting and planning for the future! You're doing amazing work and people are sure to grow from it!!
Orencia
This was a much-needed retreat for me. Yes, it was virtual but it was power packed with speakers who all brought their own flare and necessary tools to help each participant regroup, recharge, and forge ahead to their desired future. Each attendee was at different levels in life but we all walked away with what we needed to begin again on this journey call life. ShaBree is not content with letting her attendees get the tools but she walks you through the application of the required steps. You must to do the work and she helps you finish the work
Registration
Attend Live Sessions
Virtual Passport
Virtual Conference Itineary
No Access to the Recording
Access to the THRIVE After Party
vip registration
Attend Live Sessions
Virtual Passport
Virtual Conference Itinerary
Access to the Recording
Access to the THRIVE After Party
Followup Thrive Group VIP Day Q+A
Group / Personal #ActionPlan Audit
Pre-Sale Copy of "I am THRIVING"
1:1 Bespoke Strategy Consultation with SHE
SHABREE HENRY EWUSI
S.H.E.
I am ShaBree. The co-owner / co-founder of Gideon's Needle, an award winning BESPOKE lifestyle brand located in North Jersey. I'm also a Bespoke Lifestyle strategist that empowers you to thrive in life and business through strategic action plans, truth and transparency.
In 2009 I moved to New Jersey with nothing but hope and my last paycheck. It was my way of "partially grieving" my mother. My mother was my first best friend. She died "suddenly'' at 54 years young. It was ''suddenly'' to me because Mom always said she'd live forever. If you knew the ''Ideal Idena'', you believed anything she said. She was a woman of faith, her words were trusted + well respected.
It broke my heart when Mom died. My world ended as I knew it. I couldn't bear the memories that were consistently being replayed. This move was one of the things that I never questioned God on! He spoke and I listened. I literally 'chewed the bullet' and moved over 1,300 miles across country. I quit my job, sold most of my belongings, packed up the rest + said goodbye to Miami in two short weeks! I was a single mother of a three year old, no job, no car, no immediate family nearby and not the slightest idea of my future. All I had was hope and my last paycheck.
Now I can say, I'm not stressed about the world ending. I am a mother, I've found the one whom my soul loves + I'm also the co-founder and co-owner of Gideon's Needle, a Bespoke Lifestyle brand. I'm living in my destiny.
I'm sharing my personal journey with you. Open letters of truth and transparency and how I made lemonade from my lemons and THRIVED despite my adversity.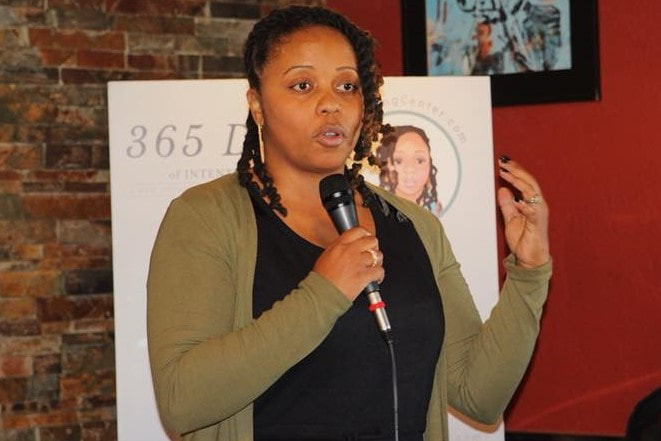 Celeste Viciere is a Licensed Mental Health Clinician (LMHC) with a private practice called, "The Uniting Center". Celeste believes in the power of intentional living. Her goal is to assist people who are looking to shift their mind set from negative to positive. Celeste created a guided journal called, 365 Days of Intentional Living #365DOIL . This guided journal can assist you with processing your life daily. If you are ready to start working on yourself and making positive changes you can order your journal now.
Teresa is a former police officer, victim advocate and child & family counselor. She has trained police officers as well as domestic violence victim/survivors on the cycle of violence as well as the criminal justice process.
Her greatest joy, however, has been helping people in crisis un-complicate the complicated, and set goals to create a better future. Her personal experience as a homicide survivor (her father was murdered when she was a child), a child growing up in domestic violence and a survivor of child sexual molestation fuels her passion to help others break free from past hurts and create their desired future. She recognizes how those hurts from the past can rob people from really getting to know themselves.
She now helps others by sharing the principles and practices that were used to help her. She empowers others to break free from the bondage of the past, online and in person, through one on one consults, goal setting/vision in action workshops, accountability programs, and inspirational speaking.
Tosh Patterson is an author, speaker, mentor and coach dedicated to helping busy professional women break up with burn out and overwhelm. These days she's a spa connoisseur and aspiring minimalist with a serious case of wanderlust (22 countries & counting!).
Tosh can help you:
· ask for what you truly want at work, and in life (learn to make BOLD requests)
· prioritize yourself to the TOP of the to-do list (#radicalselfcare)
· work less, travel more (unapologetically use your vacation time!)
· simplify all areas of your life (do you need ALL that stuff?)
Tosh has over 18 years working in fast paced, high stress leadership positions and understanding the demands placed on professional women. The simplification of my her started with simplifying my office. Simplifying my office resulted in downsizing a career I had out grown, decluttering and later selling my 2500 sq ft home, and beginning the journey to lose 130lbs. I stopped the glorification of busy and plugged into my deepest desires. Her life transformed physically, mentally, and spiritually.
Her expertise has been featured on The Dr. Oz Show, US News & World Report, and various media outlets. She's also had the honor to speak on the same stage as big names like Jillian Michaels and Lisa Nichols.
Patricia is a United States Marine Corp Veteran who served her country honorably until a horrific set of events ended her military career. Her service to her country continues as she leads a fight to champion a brighter future for those who may otherwise fall through the cracks and be lost to us forever. Her love for her country and fellow brothers and sisters in arms are on full display by her efforts to uplift and enrich their lives. Before co-creating operation R.R.R. with Christjaun Sowell, Trisha worked with other organizations to help homeless vets and bring awareness to an epidemic that has plagued our country for centuries. During her journey, she came across soldiers who have served "US" from every generation and from every branch of military living on the streets without adequate healthcare, food and clothing and this broke her heart. She knew that there had to be a way to do more, a way for "US" as a country to hold those responsible for this catastrophe accountable. This is why Operation R.R.R. was born.
Not only is she an activist, but Patricia is also a small business owner of Dream & Water Skin Care, LLC. And a part time college student. She has fought through the challenges of a traumatizing brain injury that occurred during the time of her service to our country and perseveres despite the obstacles placed in her way. This gives her first-hand knowledge of the type of services that soldiers require, and it is this spirit that she is confident that with your help we will succeed.
in·spire
inˈspī(ə)r/
verb
1.

fill (someone) with the urge or ability to do or feel something, especially to do something creative.